It's hard to fathom this Sabers training camp. We can think it'll be fun to watch, but it's hard to know exactly what it will be like.
The basic truth is that we can all name the entire list before one practice. There isn't much competition for jobs, and it will be more about competition for positions in a team setting.
This is because the Sabers have acquired so many young origins that they have established themselves or are about to, that they did not go out to bring in a group of veterans and found the need to integrate them into a group. That's what Steve Yzerman did in Detroit this summer, and it came as a bit of a panic.
There is no panic from general manager Kevin Adams and coach Don Granato. This ship has not been stationary since the days of the Ruff-Regier.
Now, some yearly reminders amid all the Bells hysteria: Hockey training camp isn't the same as soccer training camp. Draft picks do not compete for team formation as you simultaneously prepare your minor league team roster to equip the big club. There is no Triple-A or AHL in football.
In hockey, there are no impactful recitations of the results of each game in camp drills. There is real meaning in every pre-season game. All six of them. This is where you can hook up front lines and defensive pairs and see how they work. Several main players also play. Unlike fake football.
However, even with knowing who will be on the team, there are still key points to focus over the next two and a half weeks. How good do Jack Quinn and JJ Petrka look? What about Casey Mittelstadt? How will Owen Power handle his first NHL training camp? (Yes, it was easy to forget after his eight games late last season that he didn't play one.) Who will be Bauer's partner?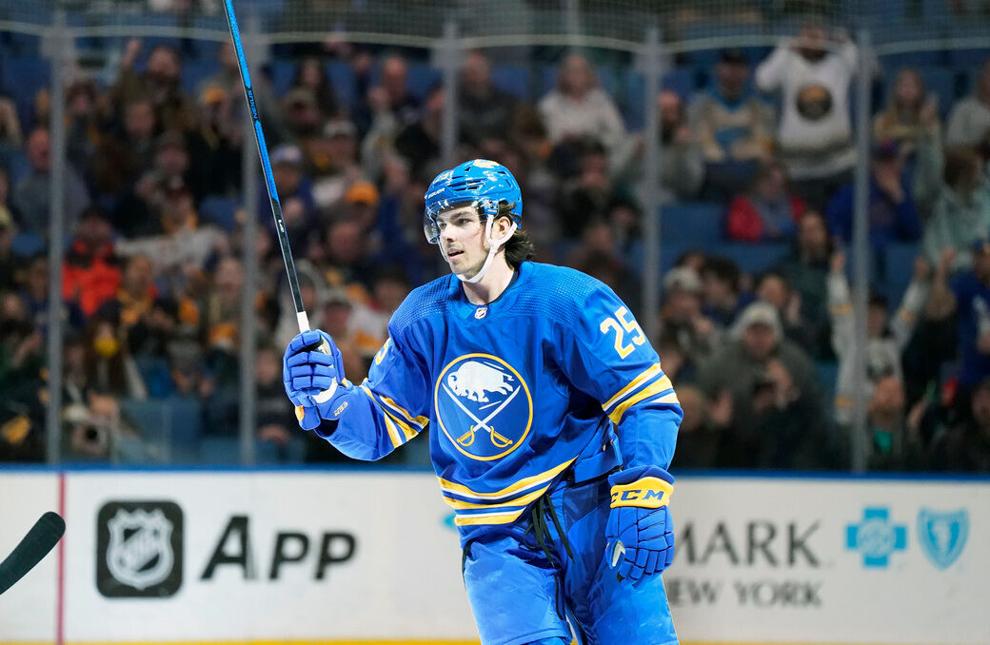 The #1 pick in the 2021 NHL Draft has always been a hockey obsessed.
How ready is the newly acquired Eric Comrie to become the #1 goalkeeper? How healthy are Craig Anderson and Ukko-Pekka Luukkonen and is the UPL ready for 50 or 55 games in Rochester? Can Taggie Thompson, Jeff Skinner and Kyle Okposo match last season's production? How much offense will come from Dylan Cousins ​​and Rasmus Dahlin? How much can Alex Tuch produce in an entire season?
(In the department we're getting older, Thompson's seven-year contract extension beginning next season is the organization's first to extend through 2030. It obviously won't be the last.)
Here's my big question: When do Adams and Granato call a captain? They should do it on the first day that comes Thursday. I end the questions on this topic. The assumption here is that it will be Okposo, with Tuch placed in the command line as a waiting leader with two more.
The feeling is that this is a franchise on the rise, and that there is a lot of talent that shouldn't be there. Okposo seems to have everyone's ears on and one of his messages all summer is that Sabers really have expectations now and should be ready to meet her.
"If you're on a team like this and you're playing your way to camp, this is an opportunity," NHL Network analyst Mike Robb and former Stanley Cup champion said of the Cypresses earlier this month. "(Atlantic Division) over the past years, you basically know you're not going to be in the playoffs. Now you have a chance and that's exciting."
But then you look at last season's standings and remember how tough things were in November, December, January and February.
When the Sabers hit their All-Star break in early February after a dismal loss in Vegas, They rolled snake eyes. Too many injuries, too many covid cases, too many times the goalkeeper wasn't doing a basic save. They were going to be a 65-point team.
But March and April haven't looked like any time in the past 10 years, an organization that no longer turns its wheels. There were points in 19 of 28 games, including wins in 16 of them, and 103 points if you carried them through an entire season. There was a tank-era exorcism in a rematch with Vegas, with Jack Eichel on the ice – and Touch stripped the disc from him to score a free-court goal.
There was a triple rig from the Leafs, who was made to look like the Lavs again and couldn't keep up with the Sabers twice at Scotiabank Arena and once outdoors in front of over 25,000 at Tim Hortons in Hamilton.
By the end of that unforgettable evening, you had to raise your weakness to the sword the way they were in the foliage heads.
Auston Matthews was so frustrated that he was suspended for trying to decapitate Dahlin, and Cuzness was a maniac who was ready to take on anyone wearing a 1918 Toronto Arenas jersey. There were no takers.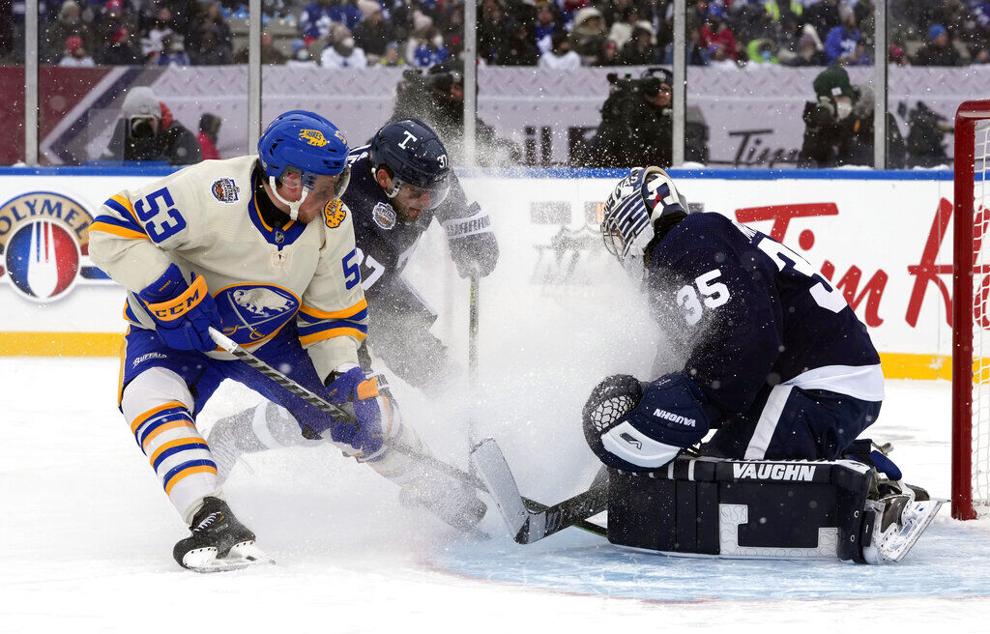 On a snowy and windy day, in front of over 26,000 fans and in a tie game after 40 minutes, the Saber made all the plays. Then they added exclamation points. It was a 5-2 win over the Maple Leafs in Crisis, a Heritage Classic victory that will live on forever as the first overseas victory in franchise history.
Vibes have been great all summer. The hype about making three first-round picks in the draft was massive, the hype at the development camp was massive and all you had to do was see the signing streak at Sahlin Field last month when Power, Okposo, Skinner and Malcolm Suban showed up. Get more confirmation.
The players only had about an hour to sign before first pitch, and as Okposo pointed out to Power, "This isn't an hour-long class."
The crowd wanted to see the sword. in August. And for good reason. It's been a while here where we can say that.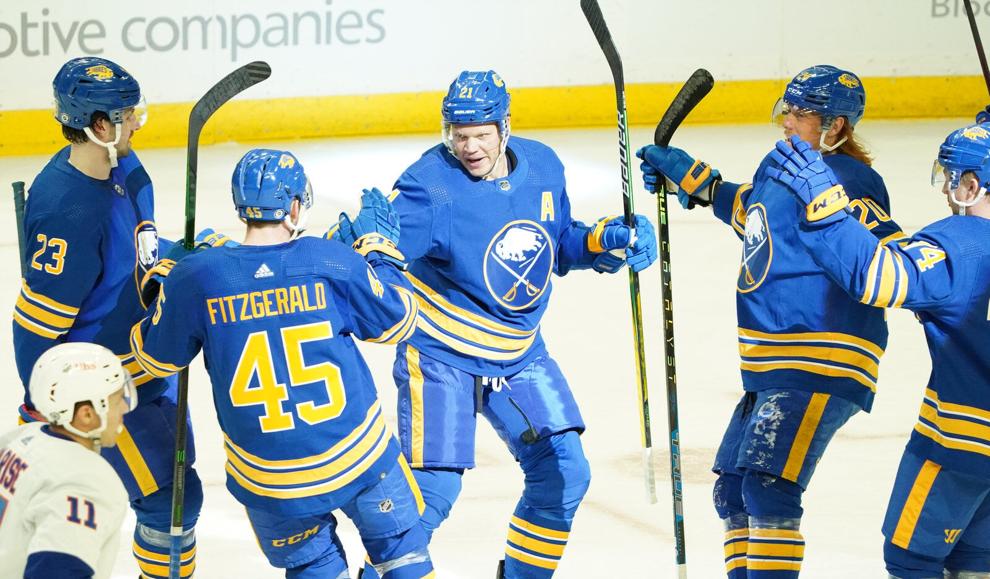 It's been an hour before Bison's game and an hour after the Bills' pre-season game, but all the ruckus was over having the saber in the house. And when the team aired a clip of veteran Kyle Okposo speaking to players at development camp last month, its message was clear: People can't wait for the hockey season.
"They have a good skill set. I mean, they've drafted very well and made some smart deals," former Isles coach Barry Trotz said here in April after his team came home with a loss. "Obviously they have a really good skill base. I think the experience that some of the younger guys are getting paid off.
"They are playing really well as a team. I just told someone I can see this team take a big leap forward based on how to finish a real strong year."
But with all the good feelings we have about where swords are headed, you should get some reality checking, too. They finished 35 points from the top three in the Atlantic Division, 32 points behind fourth-placed Boston and 25 points from the last playoffs in the Eastern District.
That's not a deficit that you generally make up for in a single season.
"At the end of last season, we got a good place in our game," Skinner said that night at Sahlin Field. "We still have a lot of work to do and we also have to kind of start over. So that was a good starting point, I think. We have to keep moving forward."
Camp comes to you quickly. The first practice is on Thursday. The first pre-season game on September 25 in Washington. We're already less than a month away from the season opener, October 13th against Ottawa.
The months of March and April do not count towards this year's ranking, but they are very important. This will be September. It would be great to see what we are about to learn.